Pretty's not well...
In fact, she hasn't been well since before Chinese New Year...
Which means she hasn't been well since a little more than a month ago...
First, I thought that she was just acting up, as she urinated in small patches whenever I leave the house...
But one morning, I felt that her body temperature was kinda high and she refused to eat...
So, I fed her coconut juice in order to cool her down...
She started vomiting and had a bad case of diarrhea...
I was still reluctant to send her to the vet as I felt that it was a normal fever...
She crept under the bed at night and slept there without coming out to feed or drink...
The next morning, I called her out of the bed but she didn't respond...
Chris looked under the bed and saw that she was caked with filth and vomit, practically stuck to the floor and she looked totally lifeless!
That scared the hell out of me!
I hurriedly woke up, washed my face and took her to the vet immediately...
One look at her, and the vet immediately put her on a drip...
Apparently, she was dehydrated...
She didn't even open her eyes when she was on the way there...
After 300ml of fluids went into her, my Pretty lifted up her head...
As per the Dr Ravi, Pretty was poisoned...
After paying the vet, I was allowed to take her home...
The next morning, I brought her to the vet again...
This time, Pretty got an antibiotics for her poisoning...
Paid the vet and came home again...
Dr Ravi also suggested that we change her food to Royal Canin...
Mind you, it's expensive...
RM61 per 1kg bag!
But for Pretty's sake, we just bought the bag without any further ado...
A few days passed and Pretty got most of her strength back...
She started wagging her tail more, and was more responsive, almost like the old Pretty...
But something kept gnawing at the back of my head...
She started peeing blood...
It was real scary...
See how red it was????
I took her to the vet again and was informed that she probably damaged her liver and kidneys due to the poisoning the other day...
This time, it took longer to heal her...
I had to bring her to the vet everyday for antibiotics jabs and on top of that, I had to feed her a new drug called Urinaid...
6 days later, her urine was less red than the 1st time...
She's still on Urinaid for now but another problem has surfaced...
She was down with fever again 3 days ago...
This time, there wasn't any diarrhea but she vomited a LOT!
I called the vet and he told me to keep feeding her fluids till she stopped vomiting...
Every 30 minutes I had to feed her 10ml of water using a syringe pumped into her mouth...
This time I was really worried...
Didn't really sleep for 2 nights coz I was afraid that she would be dehydrated again...
I really don't wanna go through another ordeal with the vet...
Now, 3 days later, she's getting slightly better...
She still won't eat her dog food unless I blend it for her...
Maybe she's having a toothache or something....
Now, I have to blend her dog food, add a little lukewarm water and feed her using a spoon...
But, I'm not complaining...
I love her and I would do anything just to make sure she's okay...
She's still peeing patches of blood occasionally, but I really hope she gets better soon...
Please, anyone who's reading this, please say a little prayer for her...
Every little bit helps...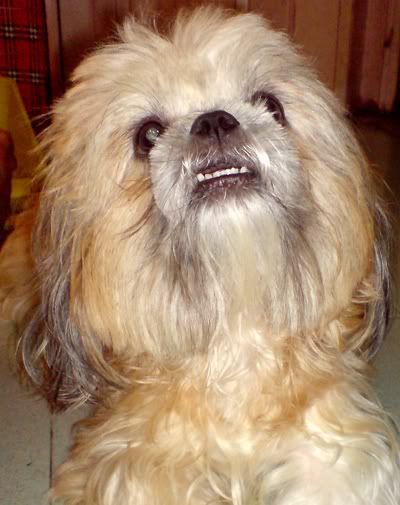 Thank you very much...
Cuddles...