Finally, I'm free enough to update my blog...
I've got tonnes of pics to blog about, but I just didn't know where to start...
I've been neglecting my blog for so long as it's so much easier to update anything on facebook...
But, I've been feeling pretty guilty for not updating as much as I used to...
Blogging used to be fun for me, and now it sorta feels like a bore...
Well anyways, here are some of my latest news...
I've been having a bad cold for the past several days...
From cough, I began developing a high fever that wouldn't go down...
Then it led to flu...
Today I'm not on any medications at all, coz they will make me too groggy to care for dad, which is why I'm still awake right now...
My whole family's down with flu at the moment...
Mum's the worst amongst us...
She finally relented and took some pirithon so she's sleeping like a baby right now while I stay awake in case dad needs me...
Such a good daughter, huh?? :p
Nah, I think it's the least I can do....
I just pray that my cold won't come back...
So, lately I've been getting really adventurous in the kitchen...
I tried making Indian food.... :D
These are called poori...
Very easy to prepare actually...
Just gotta knead flour, salt and a little bit of ghee, let it rise, roll into balls, flatten them and deep fry...
According to my Indian friends, these are normally made during celebrations...
I loved these but it wasn't easy to find people selling them...
So, I got the recipe from the internet and prepared some...
You're supposed to eat it with this...
The recipe calls it bhaji, but I like to call it Indian mashed potato... :D
They tasted great...
Succeeded at my first try... Yay!
Then, I had the urge to try and cook Wanton Noodles...
They're actually easy to prepare once you have all the ingredients...
The noodles and barbecued pork was bought...
Just gotta make the sauce, blanch the vege and ta da, prepare the wantons, and ta da, you're good to go....
I prefer my wantons fried as I don't really enjoy the boiled wantons...
Also succeeded at my first try... :)
And of coz, I love baking...
Baked a marble cake the other day...
Yeah, I know, I fail miserably at cake decorating, but I had extra chocolate chips and I didn't know what to do with them...
So, being the chocolate lover that I am, I decided to put a heart on my cake... :)
Owh, a random picture taken while I was playing in the rain...
Nope, I didn't fall sick after this...
The heavy rain was just too tempting, so I decided to take advantage of it and just be a kid again...
I love the rain!
Notice anything weird about the above picture?
Things people will create to make money...
Those are actually fake cigarettes for Qin Ming festival... (Gosh, I HAVE really been neglecting my blog)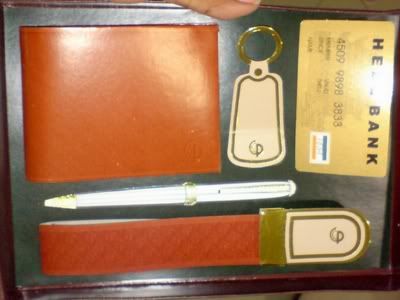 They even have credit cards!!!!
Ok, I realize that I'm rambling now, but hey, give me a break...
It's 3.50am and I woke up at 10am yesterday morning...
I'm gonna take a peek at dad to see if he needs anything...
Next update coming up soon, hopefully... :p
Cuddles...