Phewww, finally Chinese New Year's over...
Yeah, I know, I know, this is waaaaaaaayyyy backdated, but I feel kinda guilty neglecting my blog...
Truth is, I was super busy in the weeks leading to Chinese New Year, that I didn't even have time to fish... :(
Parents aren't getting any younger so this year, I had to do most things by myself...
Thank goodness I have Chris around, or else I'd probably go nuts this year...
Guess what? It's unbelievable, but I actually lost a little more than 2 kgs in less than a month!
I was climbing up ladders, hanging twinkling lights, polishing chandeliers, movings stuffs around, removing and hanging curtains, washing the house, dusting stuff, decorating the house, and even baking!
This year I was lucky, as we decided to cater instead of doing our own cooking...
We also bought many of the cookies as I was too tired to bake them myself...
But, I bought many new outfits this year... :D
4 pairs of jeans, 1 pair of pants, and countless tops!
Yup, I went a little crazy this year... :P
Ok, enough rambling, here are some pictures...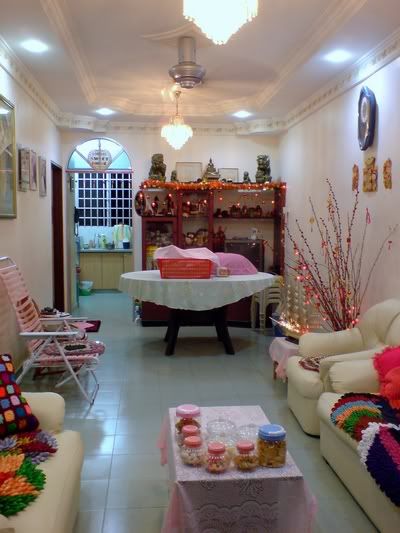 The pussy willow's been recycled....
Bought new sofa set this year, and we let our guests eat in the hall, instead of the porch...
Didn't decorate much inside the house as our "clever" neighbour burnt the huge incense about 2 feet away from my gate, causing the ashes to fly all into our house!
Well, some people won't know this but it's considered a taboo for chinese to sweep the floor on New Year's Day!
Imagine our frustration seeing all the black ashes on our brand new chairs!
ARGHHHHHHHHHHHH!!!
Fake cherry blossoms in the porch, all lit up...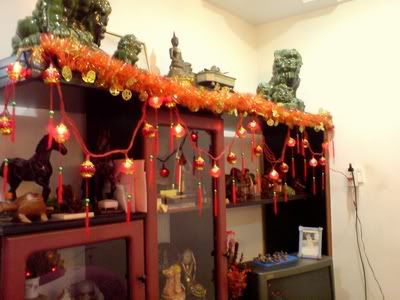 A cabinet for displaying some items collected over the years...
Most of the items are presents from Ma & Pa's ex students...
There are still lots more of these gifts packed away in boxes!
My ma's handicraft cushions...
I croqueted lots of those small squares...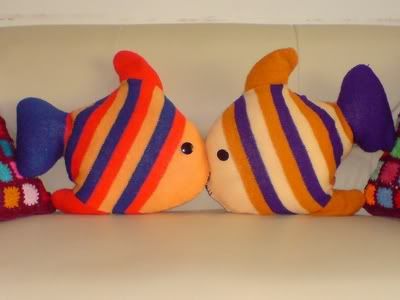 These 2 fishes were also made by Ma...
She knitted them in a few days!!!! :o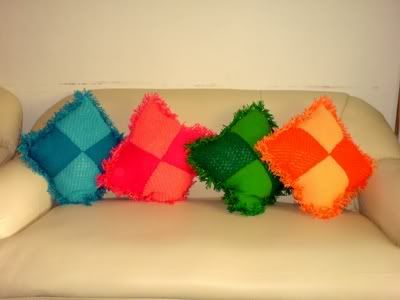 These cushions were also hand knitted by Ma...
Don't they look lovely?
You can only see them once a year!
Ma's afraid of kids destroying her precious cushions... Hehe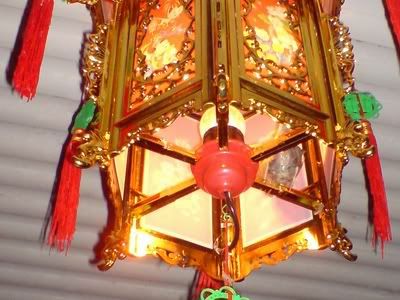 Oh, check out my lantern in the porch...
The birds are using it as their nests at night!
I don't mind providing shelter for them, but they also mess up my car top! Grrrrrrrrrrr!!!!
Anyways, it's getting real late now, so I'm gonna stop and get some sleep...
Till then next time, cuddles...