This post is slightly backdated as it was supposed to happen on the 11th June which was my B's birthday...
Happy Belated Birthday B!
May you achieve great heights in your new career starting tomorrow...
Was planning to have a barbecue at home as my B simply loves barbecued chicken...
But since we only came back on the 11th, we were too tired to get the ingredients needed, so we had to postpone it for 1 day...
On the 12th, as I didn't sleep the night before, I went out to the market with my B, my mum & my aunt...
Bought lots of chicken, fish, sweet potato & stuff for the small barbecue planned for the night...
On our way back from the market, the sun rise was a beautiful sight to behold...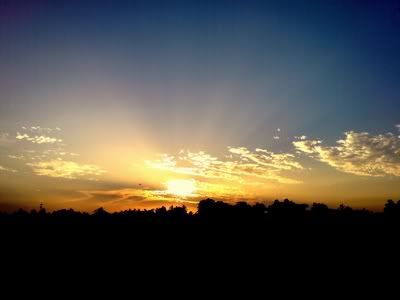 It's strange that I never did get any good sunrise shots as I don't get to see the sun rise so often...
It was really beautiful...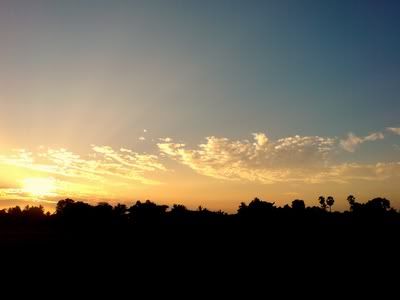 Another perspective...
There weren't a lot of clouds that morning, but it was still beautiful to look at, don't you agree??
All these shots were taken using my faithful Sony Ericsson K800i...
Beautiful shots, coming from a phone, huh?
We came home then and started marinating the chicken & fish...
Mum was busy cleaning the prawns...
After that, we took a nap...
Errr, I think I should call it a deep sleep... :D
Slept till almost 4pm when we woke up to buy charcoal & other stuff as well...
Even went to the Pasar Malam for some Taiwan corn...
Started the barbecue at about 8pm...
First batch, chicken!
Notice the colour of the chicken? They turned out to be pretty good...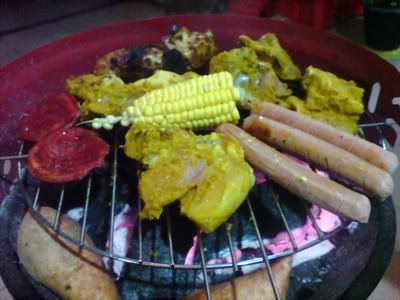 We then added sausages, corn & bak gua which my sister brought all the way from Yan...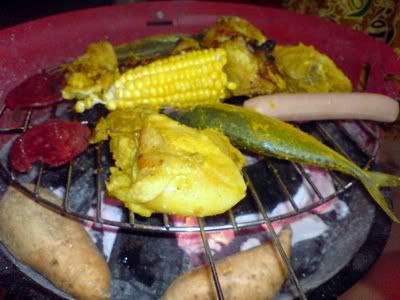 This time, we added fish & sweet potato...
The fishes were delicious!
I was surprised that my B ate a fish!!!!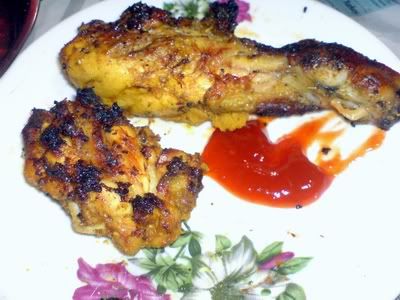 My dinner for the night... This is always the case for the person who grills! :( You get to eat last when everybody else has been fed...
2 of these fishes were also my dinner... Yummy!
At about midnight, the party broke up & my sister left...
Only thing that I needed to clean was this...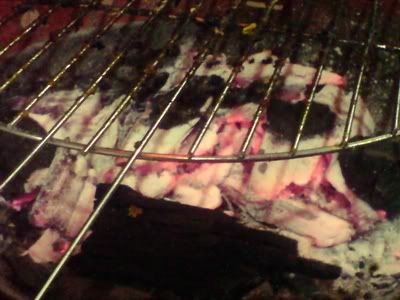 Oops, it's still hot! Just leave it for tomorrow...
Cuddles...