Was in Penang on Thursday...
As I mentioned in my previous post, had to send my Papa to the hospital for the results of his MRI...
I'm really happy to report that the doctor gave him a clean bill of health...
He also said that my Papa did the right thing by refusing to go for the biopsy of his spinal cord...
Apparently, if anyone goes for tumor removal, everyone will start associating any small abnormaly to cancer.... WTF?!?!
Anyways, I reached Penang at about 10.30am...
Was trapped in a slight jam on the bridge...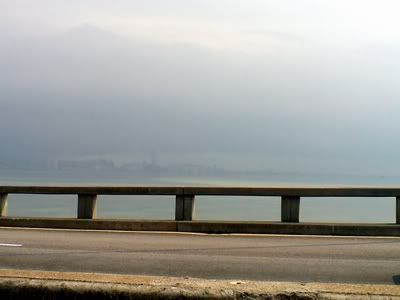 Looked over to the island and saw that it was really hazy...
You can't even see Komtar clearly...
Gosh, the haze is really bad...
Hmm, makes me glad that I'm no longer living in Penang... Hehe
For my Penang friends, drink lots of water & try to stay indoors as much as possible...
That's how I dealt with the haze last time...
Anyways, dropped my parents off at the hospital & went to Chew Tian Yang to check out the fishes there...
Noticed that their prices are a bit steeper compared to here in Alor Star...
A fish that I can easily get for RM1, they're selling at RM2.20 per fish!
Really expensive I'd say....
Wandered around looking at the fishes and checked out the doggy stuff for my Pretty baby...
Unfortunately, the prices were way too expensive!
I promise to get you more treats here in Alor Star, k... :D
Since Cheng followed us to Penang, as usual, it was photo taking time...
We weren't allowed to photograph the fishes, but there was an open space where you can photograph...
Beautiful landscaping...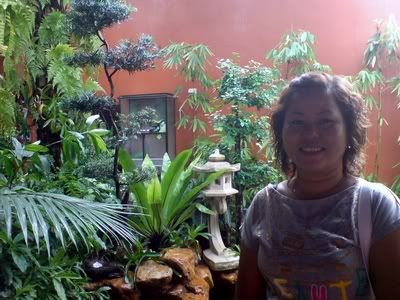 A picture of Cheng amidst the greenery...
One of my B & I...
My hair's still curly... :)
We then went off to a nursery in Tanjung Bungah as mum wanted to look at some plants...
The owner's face looked like sh*t...
We were saying that Monkey's Cup plants can be found on hills, and she had the nerve to say, if you can find them, then bring them to me la! WTF?!?!?!
We wanted to get a few of the Monkey's Cup plant but since her attitude was so bitchy, we decided against it, and just bought 2 really beautiful plants...
Champagne colour rose plant...
Just look at the petals...
Isn't it lovely???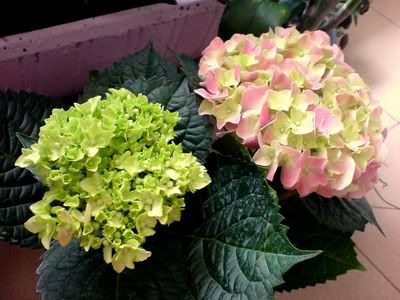 Mum bought this as she has been admiring the flowers for sometime now...
We already have the blue coloured flowers but this is pink...
Lovely!
After that, I headed to Sunflower bakery for 1 of their Black Forest cakes...
I simply adore their cakes...
Apparently, they bake it with pure Fern butter...
RM23 for 1/2 kg Black Forest cake...
It's not expensive at all!
Should try it if you're in Penang...
Located along the main road of Tanjung Bungah...
They also have a branch in Komtar... It's hidden behind some pillars... Located near the goldsmith shops...
Trust me, once you try it, you won't like any other black forest cakes...
Then, we went to a nursery near to Botanical Gardens...
There, we met a very friendly lady who used to stay in Sri Lanka...
We bought a few monkey's cup plants there...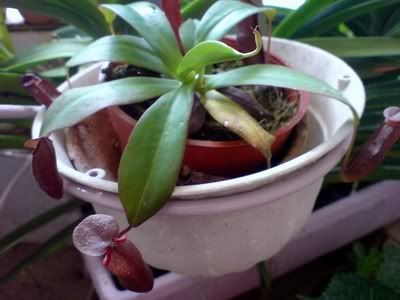 \
Mama didn't have this variety so we bought it... A steal at only RM15...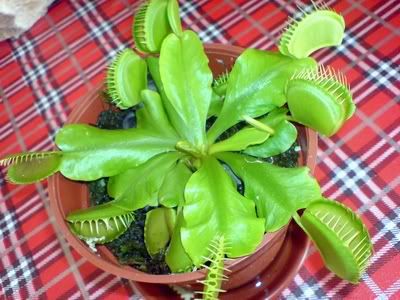 I bought the Venus Flytrap for RM20...
Isn't it unique???
When you touch the traps, they will shut!
I've always wanted it, and thanks to Mama who bought it for me...
We also took a picture there..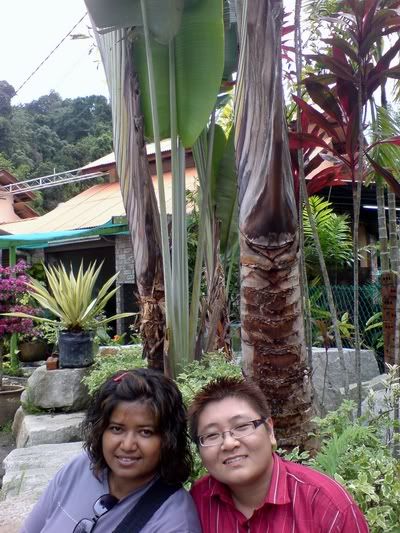 We then had lunch at Jalan Delima...
Wanted the hokkien mee there but the guy already went back... :(
So sorry that we delayed, B...
I know you really wanted the Hokkien Mee, but...
We'll go again soon, k?
Anyways, we went to another nursery there but didn't buy anything as we didn't see anything we liked...
There was another nursery in Jalan Delima so we dropped in...
Bought some orchids there...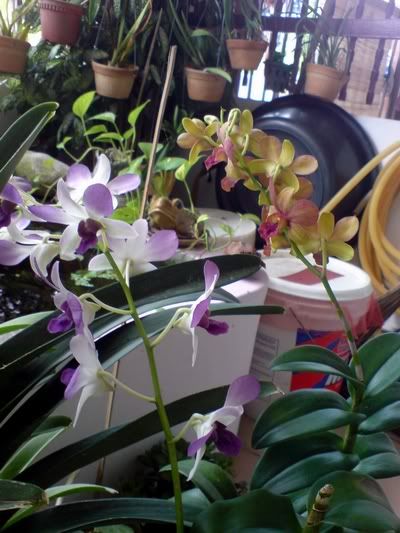 Aren't they beautiful???
Don't even have the space to hang them anymore but we couldn't resist buying them...
They were only RM13 each!
And these next photos are from my garden...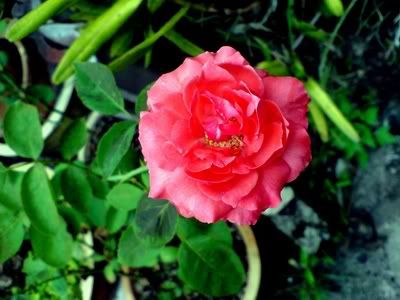 I love this rose...
The petals are so unique...
My mum's cockcomb...
These grew from seeds that Mama took from the previous flower...
Beautiful, huh?
Anyways, we left Penang after fully loading the car with plants & reached here late evening...
Will check out another nursery tomorrow...
Will update with my purchases again then...
Till the next time, cuddles, & good nite...