Those of you who've added me in Facebook should know that a couple of weeks ago, I was praying for the latest addition to our family, my grand nephew...
Yup, I'm a grand aunt now...
He's my niece's son, so, he should be called my grand nephew...
Gosh, that does make me sound so old, huh?
Well, anyways, I've a few photos of him that I'd really love to share with all of you...
This picture was sent to me the day I bought my notebook...
I was still a little worried when I saw this picture...
But I guess not as worried as I was before...
He had to have his lungs pumped out when he was born...
Feel so sorry for the poor little thing...
But, I'm really happy to report that he's already out of the hospital now...
In fact, he's been out for more than a week...
Today, he's a healthy 2.8kgs baby...
Since I was sick for the past week, I didn't pay him a visit till yesterday...
He's certainly a very cute baby...
Looks exactly like his dad though... Hehe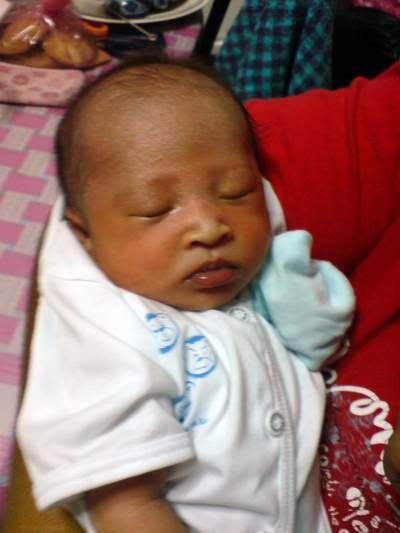 That's me holding my grand nephew for the first time...
He's very tiny, but at the same time, adorable!
Tried to wake him up to have his picture taken, but to no avail...
Finally, when I was about to leave........
Ta daaaaaaaaaaaaa....
He opened his eyes just long enough for this photo to be taken....
Yippppppeeeeeeeeeeeeeeeeeeeeee!!!
I left a very happy Grand Aunty or should I call myself Kor Poh?!?!?!
Haihhhhhh, it does sound old, huh?!?!?!
I can't wait till he's a little older, when I can play with him a little more...
Babies are just such adorable things, don't you think????
Speaking of adorable things, check this picture out...
Nah, doesn't the fish look just like a ping pong ball?!?!
I'm really afraid that it will explode someday...
But, the fish is no longer in my room... :(
My mum felt that it would be happier outside in the 5ft tank, so I transferred all 6 of them into the bigger tank outside, and got myself 20 new small ping pongs... Hehe
Here's a video of the bigger ping pong swimming like a submarine...
Enjoy...
That's it for now... Cuddles!