Chinese New Year's coming up in less than a month...
I guess everybody's busy preparing for the best festival in the lunar calendar...
Same goes for me...
I've been back here for almost 9 days...
In these 9 days, I've spring cleaned the porch, painted the gate, grills, the pond, the walls in my porch and god knows what else I've painted...
The only thing I haven't painted are the fishes... =)
Anyways, yesterday, as I was busy painting the wall outside my house, I fell, into a 4 1/2 feet deep drain right in front of my house...
I stepped on a brick and it slipped, so down I went, still holding the paint roller... WTF!
My badly scratched back...
At first, I thought I only hit the wall or something, that's why the ache...
But when I undressed to take a shower, this is what I discovered...
Haihhh, just last month I fell on the stairs, and now this!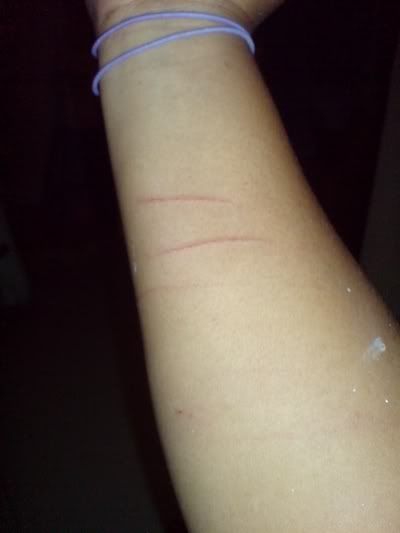 I also scratched my arm on the lime plant right beside the drain...
Pretty lucky, huh?
My arm was still covered with paint when I took this picture...
I still have a few more places that I need to finish painting tomorrow...
Hopefully, I don't wake up with a bad body ache!
As it is, I have a huge huge bruise on my back...
It's now maroon in colour...
I better get some rest now...
Cuddles...